January 4
Jesus, what are the gifts that I receive from You in this New Year? I am full of fear or, even worse, full of dread. Come what may, as much as I'm wounded, humiliated and beaten, by your divine grace I'll say to everything: Welcome, it is the will of Jesus, I am a victim of His love, a victim of souls. I confess, my Jesus, my biggest fear is my weakness: I am afraid of offending You. I trust in You; may my love be strong and I'll happily climb my Calvary.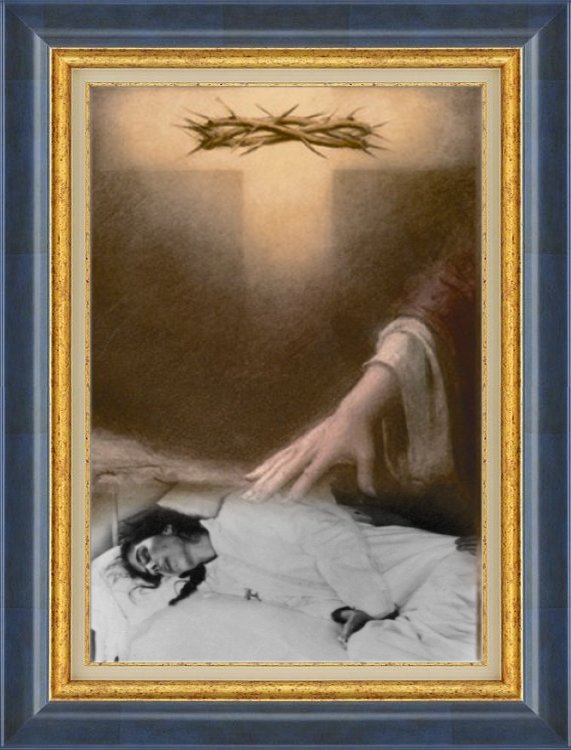 Where can I hide myself and hide the world with me? Where else can I cleanse myself and purify the world except in You? Hide me, cleanse me. Grant that I be born again of grace and love, and with me the world, but in such a way that neither I nor the world had ever offended You.
I do not know where I am; I live neither in this exile nor in Heaven. It seems to me that I live between it and the earth. I came to this place, I brought the world with me; a place without light, without life – without anything. My soul is torn with pain, it is indescribable what I feel within me. My God, what a defeat! I have no light, and they robbed me of my guides for such momentous paths. I die in the darkness, Jesus, I die of weakness. Come, come with the Heavenly Mother, give me strength, give me life.
I cannot think of fighting against the devil, I shudder with horror. He sets up traps to capture me! Many times he has assaulted my soul! It seems to me that I die of pain. I heard the challenging voice of the evil one. It is bad enough when he does all this! ... What distresses me more is when he does what's worse.
At dawn yesterday, I was preparing myself to communicate and soon my soul began to feel his assaults. My preparation was a terrible battle. What shame was mine when Jesus arrived into my heart! The devil called and many demons came. And the evil one told me:
— You are the most delicious delicacy for all the demons of hell. Look how you prepare yourself for Holy Communion. You think that you are a spouse of Jesus? You are not, no! He does not want you, you are mine, give me your heart. If you give it to me voluntarily, I will give you the world with all its enchantments, grandeurs and pleasures.
At this point, I managed to renew my offer of victim and slave to Jesus. I do not want the world or anything belonging to it, my Jesus, what I want is not to sin. To love You only and not hurt your Divine Heart. The demon redoubled his anger. I felt that he wanted me to give him, willingly, my heart and with it the world. My body was broken with fatigue. The moment was bad. When it seemed to me that everything was lost, there was no remedy for me, I cried to Heaven with my heart and soul:
To sin, no! Help me, Jesus! The fight ceased, but it left sadness in my soul. So great a sadness for not having sinned; it seemed to me that I had wanted to offend Jesus. What distress is mine!
The devil, standing back but still raging, wanted to pull my soul down and cut my body into pieces.
Little by little, a gentleness and peace took hold of me, overcame me. Jesus made me feel that everything that was happening in my soul were the effects of the devil. It was he who was sorry that I had not sinned and was angry because he had not managed to force me to.
Soon Jesus came to me in Holy Communion; I enjoyed a great peace, but I was very sad, shy and embarrassed. As soon as I received Him, I forgot, for a time, the fearsome and ugly fight.
Today the evil one returned with another infernal attack. Only Jesus sees the pain that I feel in my soul. He told me who the people were who are accomplices in my crime, the people who have taught me to sin.
My God, how to get out of this without offending You? Only by Your grace. By Your mercy, it is only in moments of struggle that I know and understand the lessons of the demon. It is a further proof of Your infinite love. You alone know how much I want to love You, and to make reparation for offenses against Your Divine Heart, and never to stain my body nor my soul. It is a sad Thursday that prepares me for Friday!
My soul is tired of so much suffering, of the great pain that awaits it. I fear the hour approaching, I fear death. Heaven is so disgusted with earth's ingratitude. I fear everything, but I want to endure all, I want to die to give life!